Testimonials

Aabia
My daughter Aabia started her Tae Kwon Do Journey at USTC during September of 2012 at 9 years of age and the rest as they say is history. She became a national champion in 2016, winning Gold and 2 Bronze medals at the annual Tae Kwon Do Championship held in Richmond, Virginia in 2016. She started with a four week session through parks and rec. It was enough to get her hooked; little did she know that it would change her life forever. Martial arts became not just a sport, but a way of life. She fell in love with Tae Kwon Do, the Dojang and the instructors.
She lives by the five aims of Tae Kwon Do five aims of Taekwondo, Respect, Humility, Perseverance, Self-Control, and Honesty .It has widened our horizon and given us a better perspective. This is the 21st century and TKD helped her in becoming a part of an ever increasing globalization of the world. Today Tae Kwon Do is practiced in over 120 countries with over 20 million practitioners, and is the most practiced martial art style in the world. We were also introduced to the Korean cuisine because of the fun parties we have.
We really admire the way Master Alex and Master Eddie respect their parents. And in all of the Korean culture that we have seen, it's all about love. Taekwondo has brought everyone closer together, and brought the amazing Korean customs to America. Tae Kwon Do uses powerful kicking techniques, and this sets it apart from other martial arts, for it is also directed toward the moral development of its students.
She has the honor of learning these skills from best in the field Grandmaster Jeong, Master Alex and Master Eddie. She has now joined the Poomsae team at USTC. Master Eddie says that "If you aren't sweating then you aren't doing it right". It has brought structure and discipline in her life. It is not martial arts; it's a way of life now. It has taught her to balance her body and mind. Her flexibility, strength, endurance and coordination have increased tremendously. He has taught her to be the best that she can be.
"The strength of the team is each individual member. The strength of each member is the team." She had to tryout to be a part of the prestigious Demo team. She was ecstatic when Grandmaster Jeong recommended her and then selected her for the USTC Demo team as well as the MSTA Demo team. They were placed first in 2016 and became the best DEMO team in the nation.She has learnt that it is not just about how well you do, but how well everyone could do together. Demo Team also taught her to be confident and work as a member of a group. The DT camps are fun. They work hard and then play hard. It's a wonderful feeling, a sense of belonging. The members have become very good friends. They lookout for each other, encourage each other. It truly brings out the best in her.
Now after being an onlooker in my daughter's unbelievable journey, my son Aahil a second grader was motivated to join the TKD family at USTC. He loves it! My kids personalities are like chalk and cheese. This is the only sport that they both are passionate about. This has become a family sport. Though my daughter is a black belt and son is a yellow belt, they sometimes attend classes together during the family class, which is very convenient for us. Aahil practices a lot at home and has big dreams. He is planning to join the sparring team at Worcester which is run by Master Alex. He coached my daughter at the nationals.
The masters have extraordinary talent and dedication. They set high expectations for their students and then provide them with the tools and training needed to accomplish these goals. They are encouraged, motivated and given the training to succeed. They have a calm and friendly demeanor. They give equal attention to all students and listen to their queries. They are well organized and well prepared before each class. They are very well liked/popular among the students with composed presence and great sense of humor. They are interested in their progress and motivate them to do their best.
I can unequivocally state that joining USTC was a very good decision for our family. - Amber
Melissa, Keira & Ethan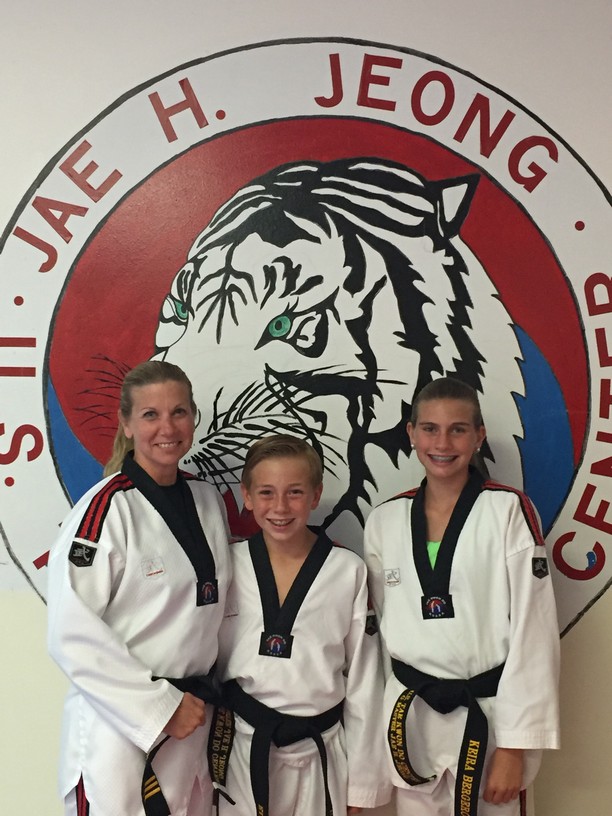 Tae Kwon Do is not only a martial art form for self-defense; but it is also a physical activity for all ages.  It strives for students to learn skills needed within daily lives and promotes importance of being respectful to parents, teachers and elders in their community.
     It has been nearly a decade since my family has begun our journey at USTC.  Each of my children began at the age of four.   My daughter fell in love with Tae Kwon Do immediately.  She loved being with the other students, learning the curriculum and having the great instructors.  She has grown into a well-rounded young lady and continues to enjoy Tae Kwon Do.  My son is an energetic, enthusiastic and athletic child.  He loves being in the classes and the structure helped him during class as well as in life.  Both of my children are able to enjoy an activity that is positive for them both physically and mentally.  Their confidence soars through their achievements at tournaments as well as success at testing for new belts.  We have been in the Tae Kwon Do family for so long that it has been an important part of our lives.  It has helped to mold their thoughts, actions, reactions and well-being.  My children are strong individuals who also enjoy premier soccer, skiing, softball & baseball as well as Tae Kwon Do.  They also are high honor and honor roll students, who have learned to balance their time limitations and enjoy life in general.
     Jason and I joined almost seven years ago after our children, in order to share something with them and for ourselves.  Jason achieved high brown belt before sustaining an injury to his knee in soccer forcing him to retire from Tae Kwon Do.  I am still with Tae Kwon Do, which I continue to strive to use to keep physically active.  It does get challenging at times at my age, however the Instructors/Masters are remarkable in their ability to make each individual reach their best potential.  They are patient and understanding.  It is commendable to see them work with people of all ages and abilities, know the families and to make them feel successful, giving them a sense of pride for their accomplishments.  I thought I was done after a knee injury, but the attention and support that I received from the Masters and other students kept me there.  I look forward to having this time with my children, watching them grow as individuals within Tae Kwon Do.  The time and memories I have shared with them will be with me forever because of the bond we have created through this experience.  We are all currently 3rd degree black belts.  Life and schedules are hectic and crazy, but we will always make time for classes because I have a special something with my children.  Our journey is far from over; we will continue to grow, learn, believe and enjoy our Tae Kwon Do life and family.
      The Bergeron Family
---
Oscar, Cecilia & John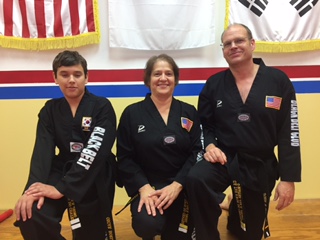 Oscar started taking Tae Kwon Do classes when he was in first grade. He was having so much fun, that our family decided to join him and make it a family activity. This was probably one of the most important decisions that we have made. Tae Kwon Do taught him discipline, and inspires him to work hard, not only in sports but also in school.
Tae Kwon Do as a family activity has improved our understanding of each other's strengths and weaknesses. We practice together and help each other. Thanks to Tae Kwon Do we are in the best physical shape we've been in our whole life. We all run faster and longer than we did in our teenage years. We are physically stronger in the amount of pull-ups and sit ups. The sport is not hard or jarring on our middle aged joints.
The atmosphere in the school is relaxed making it ideal for families. All the instructors are patient, and take their time to make sure each student masters the curriculum. We look forward to attending classes three times a week. Each session is a good workout and we leave class with smiles on our faces.
---
Andrea and Jason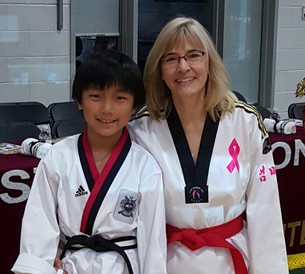 Jason started taekwondo training when he was six years old, and he has always enjoyed coming to class. Over the years, participating in taekwondo both in class and as part of the demo team has helped improve his confidence and self-esteem, and 'I can do it' attitude. He has learned the importance of respect for others and self-discipline as well, which are stressed at the school. I am continually impressed with the instructors' positive energy, attitude, patience as well as high expectations of the students (both kids and adults) which motivate them to learn and try their best, inside and outside the dojang.
When we first started coming, I could see the kids were attentive and responsive to the instructors while enjoying what they were learning even at a young age. After a year of watching, I decided to start taking classes myself, mostly to help improve my flexibility and get a good workout while having fun doing it. Jason and I now both enjoy taking family classes together and feel a part of the larger 'Taekwondo Family' that is a part of the school. Jason is now a bodan and I am a red belt; we are both looking forward to eventually achieving black belt.
---
Ed & Kacie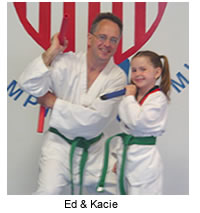 My name is Ed and my daughter's name is Kacie. She's six years old and I'm 44. We joined USTC in November of 2003. In the short time that we have been here, I've noticed positive changes in Kacie's attitude and behavior. She shows more respect towards people and is more focused in her school work.
I attribute these changes in Kacie to the discipline and respect being instilled in her by the instructors at US Tae Kwon Do. They lead by example, teach with patience, and provide positive motivation to ensure each student's progress. As for myself, I'm fulfilling a lifelong desire to work towards a black belt. When I was younger I took a few classes, but I never followed through and it has always been in the back of my mind. Now I am in the best shape I have been in in many, many years (too many).
We take class together on Saturdays and we practice at home. Tae Kwon Do has definitely brought us closer together as a family and I would highly recommend US Tae Kwon Do to anyone looking to improve their lives and spend quality time together as a family.